---
Doctor and Real Estate Investor? How You Can Be Both
Opening, owning, and operating your own medical practice is an incredible accomplishment. For some doctors, veterinarians, or dentists it's the culmination of a lifetime of work. But it can also be just the beginning of your journey into the world of medical real estate investments.
Medical practices provide a valuable business and service to their communities, boosting the value of the real estate they occupy. This gives medical practitioners the perfect launching pad to consider purchasing the facility they work in or expanding to another location.
Of course, balancing a medical practice and real estate investments is challenging, even for the most ambitious professionals. However, the long-term financial benefits can greatly outweigh the risks and challenges. Let's dive into the benefits of investing in real estate as a practitioner, the challenges you may face, and solutions.
Benefits of Investing in Real Estate as a Medical Practitioner
Appreciation
As a medical practitioner, you've received appreciation from your patients and co-workers, but appreciation from your real estate is one of the biggest reasons many business owners make the jump from renting to owning.
Over time, real estate rises in value, typically outpacing inflation in the housing and commercial real estate market. According to Cadre, a commercial real estate investment fund, U.S. commercial real estate outperformed inflation over 87% of the time between 1978 and 2022.
Appreciation is why investing in commercial medical real estate is best as a long-term strategy, but it can have benefits in the short term even during times of high interest rates.
Generates Passive Income
High-interest rates cause people and businesses to rent, rather than own. As a medical practitioner, this may create an opportunity to be the rentee rather than the renter. Plus, in times when interest rates are lower, your facilities can be refinanced.
Passive income from rent can become another way your business generates cash flow, diversifying your income streams.
Diversifies Investments
The old adage "Don't put all of your eggs in one basket" applies here. Commercial real estate is another area independent of traditional investments like stocks. While commercial real estate isn't typically affected by downturns in the stock market, it can perform incredibly well in times of uncertainty. We saw this during the COVID-19 pandemic when stock market prices skyrocketed.
Creates Leverage
Creating leverage in commercial real estate investments is the idea that when you borrow money, you're risking less of an initial investment to realize larger gains in the future.
As a medical practitioner, if you believe your practice will be successful for years to come, why not bet on yourself and plan for the long term by owning, rather than renting and throwing money away?
Create Your Ideal Practice
It's rare that a medical practice rents a building that fits its exact needs. Typically, your practice will have to make concessions on building layout or necessary space. Rather than fitting the space to optimize your practice, you'll be trying to fit your practice to optimize the space.
Purchasing real estate and building your own practice facility gives you the opportunity to create the practice you've always dreamed of, built around your particular specialty or style of work. It also affects the value of your practice, we've worked with clients that increased their practice's value by simply moving from a strip mall to a standalone practice.
Challenges of Investing in Real Estate as a Medical Practitioner
At Ashton Gray, we believe that a commercial real estate investment can take your medical practice to the next level. Whether it's moving into a location that's built to your specifications or expanding into dozens of locations, we've worked on a wide variety of projects; but no great benefits come without its own set of challenges.
Time
If you're already running a vet, dental, or medical office, time is likely one of your most precious resources. Executing a new build takes plenty of preparation and research.
Finances
Moving into a facility perfectly tailored to your practice needs sounds amazing. However, the cost of doing so can feel out of reach for many practices. For smaller businesses, it often feels like the commercial real estate world is full of large conglomerates.
Staffing
After spending years building a trustworthy staff in your current location it can be difficult to staff a new location.
Disrupting Current Practice
Pulling attention and resources away from an already successful practice to expand or move into a new location may be risky, depending on your practice's situation.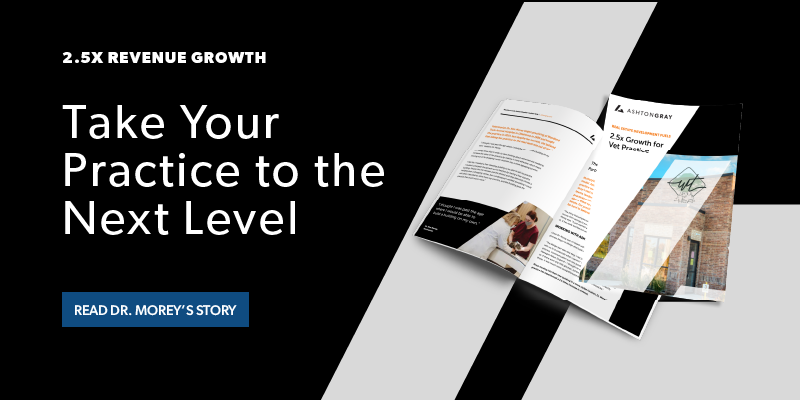 How Partnering with a Full-Service Real Estate Developer Can Help
A full-service real estate developer is a developer that manages all aspects of development, from site selection to construction.
For busy medical practitioners, the ideal partner gathers your input and allows you to focus on running your practice while keeping you in the loop during development. This allows each party to focus on their areas of expertise.
Experience & Expertise
A full-service real estate developer should possess expertise of the medical industry and every stage of real estate development. This includes market research, site selection, planning and design, permitting, construction, finances, and more.
Network of Lenders
Full-service real estate developers have investors who finance the development. At Ashton Gray, we have a vast network of lenders who believe deeply in our model and the medical industry.
These lenders allow medical practitioners to successfully hurdle one of the greatest challenges ambitious doctors, vets, and dentists face: the finances necessary to expand.
Network of Resources
Outside of lenders, full-service real estate developers regularly work with construction companies and architecture firms. We specialize in the medical retail industry, so we've forged tight relationships with construction and architecture companies that have deep experience in the medical field.
Shared Risk and Responsibilities
At Ashton Gray, not only do we specialize in medical retail, but we're also your partner. Unlike other real estate development companies, our success is directly tied to your success. Not only do we sign loan agreements alongside you, but we also own the general contractor group that handles the construction, so we have a vested interest in the project being delivered on time and on budget.
Making the decision on whether to leverage your medical practice as a launching pad into real estate investments ultimately depends on your own situation, if you need guidance on whether your medical practice would be a good fit to work with a full-service real estate development firm, talk with Ashton Gray today.