MEDICAL Real Estate Development Services
Welcome to your financial future with real estate development and investment.
Redefining Real Estate Development
- Together
Ashton Gray Real Estate is an industry-leading development firm with a mission to deliver rock-solid investments and inspire our tenants to share in long-term, real estate wealth.
Investing in your own real estate is the best tool to create generational wealth, expand your business, and secure your financial future. From concept to retirement, partnering with Ashton Gray allows you to focus on growing your business while we take care of the details.
Ashton Gray Real Estate focuses on partnering with professionals looking to take their business to the next level. We specialize in standalone and connected commercial or industrial properties ranging from medical offices to office spaces to fast-casual restaurants. We have locations across the South-West region of the U.S. including Oklahoma, Texas, Arkansas, Tennessee, Florida, Georgia, South Carolina, and North Carolina.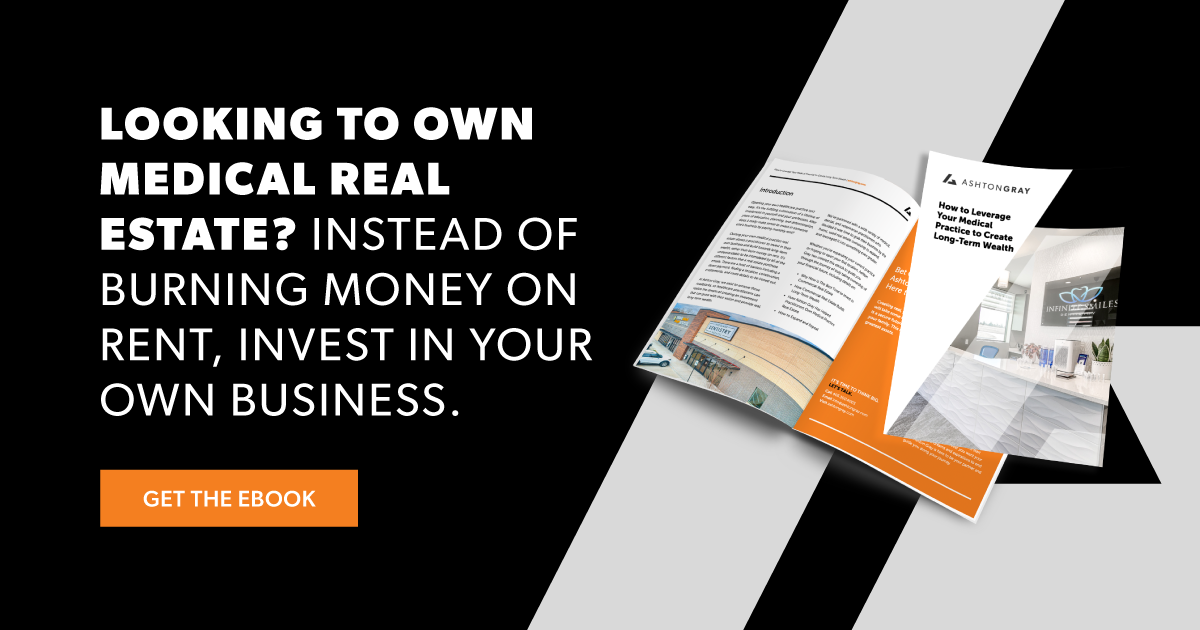 Meet Our Real Estate Team
$1 Billion+
 of Experience
Tenants in long-term lease agreements are often met with these common obstacles to owning real estate properties:
Cash down payments and equity requirements
How to get started with financing, development, and construction
Time to focus on building the business instead of running the business
---
FROM CONCEPT TO RETIREMENT
As a trusted partner to hundreds of successful owners of medical practices and office spaces, Ashton Gray prioritizes you. Here is our proven process:
Ashton Gray's team of extremely experienced brokers, developers, and constructors generate best-in-class returns, while providing full-service solutions that take the stress out of the process for our tenants and partners.
We do this by starting with your business goals in mind.
What does the project need to accomplish?
Who do you have on your team?
Where are you looking to expand or grow your business?
Why are you looking to grow your business or practice?
What can the practice or business afford in monthly rent?
Site Selection
Finding the right site location can be as important as the building itself. Location to other buildings, geography, traffic, demographics, and more can have a lasting impact on your practice's success. Our team of site scouting experts can help you connect your dream office to your dream location.
---
Building Design
A common question we get is whether or not our clients need to hire their own architects, engineers, and interior designers. Working with Ashton Gray we're capable of handling all aspects of building planning and designs with preferred architects and designers with decades of experience in the medical property business.
---
Grow
The end of a project is just the beginning for us. We focus on lessons learned and finding inspiration in others' success. Because when you grow – we grow together.
From that point, our brokerage team selects land, designs, and prices a building that meets your business goals and requirements.
The integration of our brokerage, design, construction, and property management teams remove roadblocks to allow for efficiency throughout the development process. Our goal is to oversee the entire buildout process to meet the timelines of our tenants and partners so they can focus on their business.
Construction
Too often businesses are left high and dry during the construction process when other real estate developers come in over budget and behind schedule. Ashton Gray views every project as a top priority and our team of construction experts is dedicated to providing an accurate scope of work and timetable.
---
Full Development
Whether you're building your first office space or are looking to upgrade to a new location, Ashton Gray is here to support you from start to finish. Ashton Gray Real Estate is capable of handling every detail from financing to designing to construction.
---
Expansions
As your practice grows, so will your office space requirements. A common best practice is to expand into an adjacent space as opposed to a new property. Signing a lease that takes over neighboring office space or within the same floor of your building is a low-cost way to expand your practice and increase profitability without the high costs of moving to a new location.
Establish a Lifelong
Partnership
We believe owning and expanding your real estate is the best tool for creating long-term wealth. It doesn't have to be complicated or filled with fear. You just need the right partner.
Moving from Leased Space to Ownership
Multi-Site
 Expansion Strategy
Secure Your
Financial Future
Ashton Gray is dedicated to helping our clients expand their medical practices through real estate strategy and investment opportunities. We are dedicated to helping our clients secure their financial future and create wealth for generations to come.
Ready to secure your future? Get in touch with us today.